Reflections of Christ: Bringing Jesus Christ Art to Life
In today's fast-paced digital age, discovering genuine and lifelike depictions of Jesus in art can be quite a challenge. At "Reflections of Christ," we're passionate about our collection, particularly, "Walking on Water", which has earned acclaim as our most highly sought-after piece. Mark Mabry, the artist behind our work, embarked on a creative journey to bring together timeless narratives and modern visuals, presenting a carefully curated selection passionate representations of Jesus.
Our Team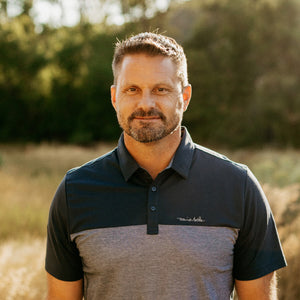 Mark Mabry
Mark Mabry, Creator of Reflections of Christ, lives in Franklin, TN with his wife and their youngest children. Mark is both a writer and a photographer. He cherishes hearing stories about how Reflections of Christ art has impacted people's lives. if you'd like to get to know Mark outside of here, you can find him on Instagram: @itsmabry. Please don't hesitate to reach out and say hi: Mark@ReflectionsofChrist.org.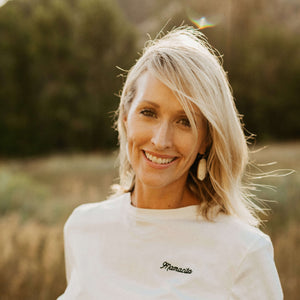 Tara Mabry
Tara Mabry, Partner, focuses on product development. One of her most valued roles is to tell Mark when something isn't quite right. She collaborates with our team to discover new ways to incorporate the message of Jesus into our daily lives. She also is in charge of fulfilling our smaller items. Tara works alongside Mark from their home in Franklin, TN. Stay connected with her on Instagram: @taramabry.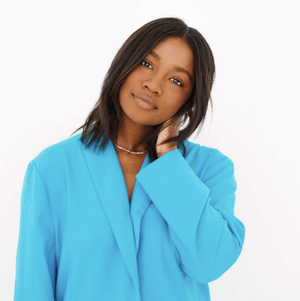 Victoria
Victoria, in charge of Customer Service and Apparel, originally hails from Georgia but now resides in Franklin, TN. She handles exchanges, returns, and ensures that people receive their orders and that they meet our standards. Victoria is responsible for the development of all ROC apparel drops. If you have questions or concerns about your order, please email her at victoria@reflectionsofChrist.org or just say hi on Instagram: @victoria.dynasty.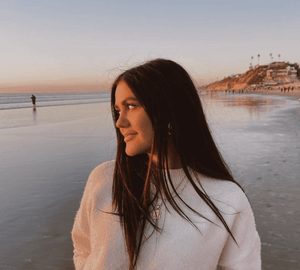 Mollie
Mollie heads up Marketing and manages our ads and promotions. Mollie recent college graduate in Marketing and just got married! She lives near SLC, Utah. If you have marketing suggestions, queries about an ad you've seen, or are interested in collaboration, please get in touch at mollie@reflectionsofChrist.org. To simply say "hi", connect with her on Instagram: @itsmolliemabry.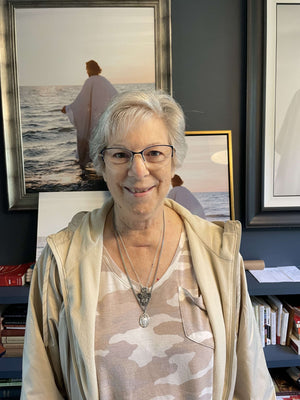 Kathy
If we're being totally honest Kathy runs the show and has for about 13 years. Kathy does the books, makes sure the trains run on time, coordinates print makers in three different states. She cries when customers tell her their stories. She prays for the company and she prays for everyone who has our art. Most of the time Kathy can be found at home in Cornville, AZ with her husband of more than 50 years, Roger. The rest of the time she is volunteering at her local diocese and driving to Phoenix to volunteer at St. Vincent De Paul. Mark wanted to call her "St. Kathy", but she would never go for that. Despite all of our protesting, Kathy is retiring January '24. We will ALL miss her dearly. Please email her something nice... kathy@reflectionsofchrist.org
How It All Started
With a desire to bring to life the images of Christ that resonate with our modern sensibilities, Mark Mabry started his journey. A passion for creating a realistic Jesus picture that captured the essence of the Savior led to the birth of our collection. The overwhelmingly positive response to our "Walking on Water Jesus" piece signaled that the world was eager for more such evocative Jesus Christ photos. 
Reflections of Christ debuted to many as a youtube video created by Filmmaker Cameron Trejo. The video featured Mabry's images set to the song "Come Thou Font" sung by Freddie Ashby, played by renowned pianist Clyde Bawden, and produced by Jason Barney. Today people play the entire Reflections of Christ album on all streaming platforms and download the sheet music here for free.
Our Vision
Our collection goes beyond traditional Jesus canvas pictures or prints of Christ commonly found for sale. We believe in the power of art, especially Christian art, to touch souls, spark conversations, and bring walls to life. Each Jesus canvas art, metal print Christ photo, and Jesus print in our gallery is meticulously crafted, showcasing a blend of traditional stories with a modern twist, making them not just pieces of art but treasures of devotion.
In Homes Around the World
Many have adorned their homes with our Jesus wall art, finding a deeper connection with the Savior through our detailed Christ pictures. From our realistic Jesus portrait to the vibrant prints of Christ for sale, every piece is a testament to the deep faith and artistic expertise behind it. Especially popular is our resurrected Jesus Christ artwork and Christ alive depictions, evoking a sense of divine presence in living spaces worldwide.
Join Our Community
Many of the people who find us have searched the internet for things like "Jesus Christ photos" and "Jesus prints". People are looking for ways to think about Jesus more in their daily lives. From the striking image of Christ walking on water to the serene "Progression" or the emotional scene of Jesus hugging a woman in "surrender", our goal is to help you think about Jesus more. 
Dive into our collection, choose the perfect Jesus canvas art, or metal art, or traditional print for your space, and become part of a community that values a blend of faith and artistry.
Enjoy the original youtube video below